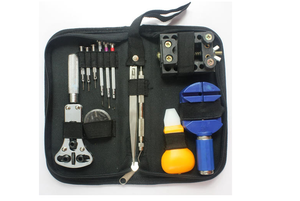 Watch Repair Tool Kit Back Case Opener Remover Spring Pin Set
R 42900

R 429.00

Save R 429
Tax included.
---
---
Description:

This is a must have for every household, there are so many ways to use this kit , instead of running to a jeweler every time you need to change a battery for a watch or remove a link and pay an ex amount of money every time! with a onetime purchase of this kit which costs even less the to change a battery, you will never have to pay an extra dime to have a jeweler change the battery or remove a link or even getting the watch fixed , this kit has it all, it has all these tools, Adjustable Case Opener with 18 Pins, (this is counted as one for-Piece count) for the Adjustable Case Opener which opens 6 Different Style Cases; Stainless Steel Tweezers; Spring Bar Tool; Link Remover; Watch Case Holder; Watch Case Opener 3pc Precision Screwdrivers, sizes: 1.2mm, 1.4mm, 1.6mm; 3-Piece Pin Punch, Sizes : 0.8mm, 0.9mm, 1.0mm and a nice handy Carrying Case.
Durable
Brand New and High Quality
Small,convenient,easy to use
Portable handy box set design,easy to carry
Can be set in different positions for different size cases
The Tool Set included:
Adjustable Case Opener
3 Pins Set for the Adjustable Case Opener
Stainless Steel Tweezer: 5 1/4"
Spring Bar Tool: 5 1/2"
Link Remover
Watch Case Holder
Watch Case Opener
3 Pcs Precision Screwdrivers
3 Pcs Pin Punch
Comes with a Carrying Case
---