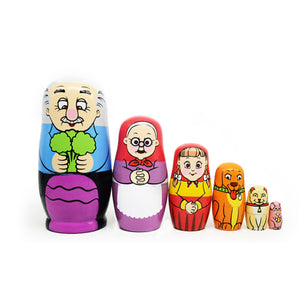 6PCS Russian Wooden Nesting Doll Happy Family Handcraft Decoration Christmas Gifts
R 90000

R 900.00

Save R 900
Tax included.
---
---
Description:
-High quality and excellent workmanship
-Paintings done purely by hand
-It consists of 6 dolls, all smaller dolls are entering into a bigger one
-Even the smallest one is delicated
-Material: wood
-Color: multicolored
- A matryoshka doll also known as a Russian Nesting Doll, or Russian Doll, is a set of wooden dolls of decreasing size placed one inside another. A set of matryoshkas consists of a wooden figure which separates, top from bottom, to reveal a smaller figure of the same sort inside, which has, in turn, another figure inside of it, and so on.
Package includes:
6 Pieces nesting dolls
---