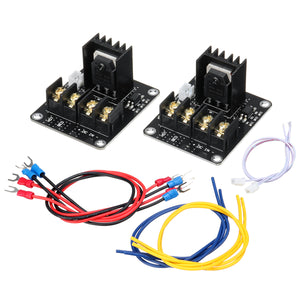 25A MOSFET High Power Heated Bed Expansion Power Module MOS Tube for 3D Printer
R 75000

R 750.00

Save R 750
Tax included.
---
---
Descriptions:
This module is based on power MOSFET and will allow PID control of the heated bed (DC-DC Relays usually do not allow this)
If your total power usage is 240W, and you have a 12V power supply, that means at least 20A (20X12 = 240W) is required.
Since the controller board can only set 15A, this setting will not work. To make it work, you need this extra power module.
Under normal cooling conditions, the module found stable operation with I(Max) = 25A, and the current used should not exceed 25A.
If you plan to use a heated bed with a 3D printer that uses a 12V power supply, this module is recommended.
Features:
- Universal heated bed power expansion module high power module for 3D printers.
- Can be used on Chitu motherboards and other open 3D printer motherboards.
- Helps 3D printers equipped with controller boards (up to 15A) become even more powerful.
- With this additional module, the maximum current on the board can reach 25A.
2. Maximum current: 25A (enhanced heat dissipation)
3. Size: about 6 x 5 x 3.1cm 
4. Mounting holes: 3.2mm diameter, for M3 screws



Package Included:



2 set Heated bed power module with cables
---