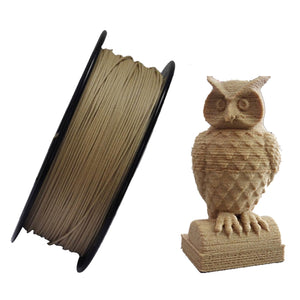 1.75mm 0.8KG Wood Filament For 3D Printer
R 1,96800

R 1,968.00

Save R 1,968
Tax included.
---
---
Features:
1. Made of wood material
2. Non-bubbles, inclusion-free
3. The produts printed by this material is with features of real wood, it can be curved, knocked in a nail, drilled, etc
Notes:
Do not wait for a long time when the wood fiber is in the nozzle and heated, otherwise the wood flour will swell and scorch,
print your model as soon as you finish the heating.
Specifications:
Material: Wood
Diameter: 1.75mm
Diameter precision: ±0.05mm
Printing Temperature: 200 - 210 Deg.C
Size: diameter 200mm, height 700mm, Round hole 55mm
Filament net weight: 0.8kg
Package Included:
1x 0.8KG Wood Filament
---